Disabled Bath Wipes
Comfort Bath Rinse-free Disposable Washcloths (case of 8)
Comfort Bath® rinse-free disposable washcloths provide a full-body bath for anyone who has difficulty getting into the tub or shower. Eliminates the need for any water source or additional supplies, saving both time and effort. Soft, thick washcloths are soaked with the maximum amount of mild cleansers and skin-protecting moisturizers which leave skin feeling soft and smooth.
Features:
case of 8 - 8 heavyweight washcloths / package
Cellulose & polyester blend washcloths
Aloe and vitamin E
USP purified water
Latex-free
Clean scent
Convenient, insulated package can be warmed in the microwave and stays warm throughout the bath. Contains Exopheryl, an ingredient that eliminates odors on contact.
Molded Tub Bar For Handicap or Disabled Bath
Bath Tub Grab Bar
by
INVACARE CORPORATION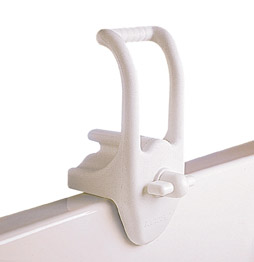 MOLDED TUB BAR
Provides stability and comfort when getting in or out of the bathtub. Lightweight, portable and waterproof. Features easy- to-adjust locking mechanism, attractive white molded finish and nonskid pads to protect tub wall. Bracket adjustment to fit tub walls 2 ½- 6 1/2 " wide. Easy installation; no tools or assembly required. Weight capacity: 250lbs. 1 year warranty. 13"H x 8"W
Tub Bar Specifications:
Stability and Comfort

Bracket adjustment to fit tub walls 2 ½- 6 1/2 " wide

Weight Capacity:250lbs

Warranty: 1 year Free Shipping In Continental US
Bring the bath tub to the patient!
Twenty-five percent of people over the age of seventy five limit their activities due to their fear of falling and not being able to get up off the floor!
Accessible Bathtub
Bed Bath Tub for Handicap Bathing...
...is a Necessity for Bed Ridden Patients but sometimes it is too painful for them to move.
When the disabled cannot be moved to the shower or bath, the bathtub must come to the Handicapped.
Medame has found a solution.
This reinforced tub with its new streamlined design is longer and deeper. Tub inflates to 71"L x 31"W x 13 1/2"H to accommodate individuals up to 6" 2".

* Fits all beds.
* Hand-held shower connects to a tap up to 25-feet away.
* Allows clients to enjoy a bath or shower without leaving their bed.
* Includes a durable wet-dry vacuum to inflate/deflate the tub.

The EZ-BATHE inflatable bathtub comes with everything you need to bath and shower those who cannot be moved. Including a Wet Vac to inflate and drain the handicap bathtub for disabled showers.
When its bath time the disabled bather is moved to one side of the bed, the uninflated vinyl bathtub is rolled out flat on the bed, and the patient is then moved onto it. The included wet-dry vacuum is then used as a pump to inflate the tub around them. Once inflated the included hand held shower head comes with a hose that will reach & attach to any faucet within 25 feet of the bed.

This patented inflatable bathtub allows patients to enjoy bathing the way it's meant to be - soaking wet!

The reinforced tub with its new streamlined design is longer and deeper. When inflated the bathtub is 13 1/2"H to accommodate individuals up to 6" 2" tall. And it fits on all beds.
The drain hose can be run to any bathtub, sink or toilet and can be turned off for a long soak or left on for constant draining, allowing for a handicap shower. The drain hose and vacuum, both included, empty the tub thoroughly. Wet-Dry Vac & Shower Head with hose included
Compared to the comfort and convenience of EZ-BATHE, nothing else holds water.